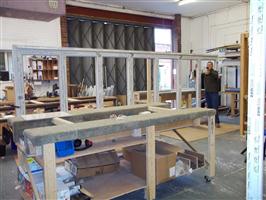 Mr Window are a leading PVC-U windows, doors, double glazing, and conservatories manufacturer based in Essex. What started as a small family run business, has since flourished into a national brand that is well respected and renowned for their exceptional quality and service.The Mr Window company strives to produce the best possible windows, doors, and conservatories, all at affordable prices. Despite their evolution into a leading home improvements manufacturer not only in Essex, but in the entire country, they make it their personal mission to ensure customer satisfaction at all times whilst remaining true to their roots. Mr Window will work with you to ensure you receive the best possible service and products for your specific needs and budget, as well as offer useful and friendly advice for both design and build.
The craftsmanship of their products is unrivalled, and this impressive quality is displayed through their design, style, and materials used, for both their traditional and contemporary windows, doors, double glazing, and conservatories. The use of expert architectural designers, along with the latest technology, is utilized in the creation of their products, subsequently making every individual item unique, stylish, and practical.
Mr Window offer a huge range of services, so whatever you are looking for you are sure to find it.
Mr Window services include;
-Windows
-Doors
-Conservatories
-Orangeries
-Rubber Roofing
-Roofline
-Integral Blinds
-Shutters
-uPVC Fencing
-Garage Door
-General Maintenance
As well as their hardware sales and installations, Mr Window offers a wide variety of other maintenance services, from flat roofing, porches, double glazing window repair, UPVC repairs, sash window repair, Hi security door, and even building work. With such an extensive and vast array of skills and expertise the Mr Window team are equipped to help you complete entire renovation projects.
If you need your project completed in a hurry, then why not opt for the Mr Window express same day service? On a number of their products and services Mr Window can offer an amazing 24 hour turnaround, and at no extra cost! All you have to do is place your order online, in store, or over the phone, and the Mr Window team will be there to start work in no time at all!
Mr Window understands that customers want professional service and quality, at a fair and honest price. Whether you are looking to refurbish an existing property, replace a single unit whilst keeping a consistent design, or create fittings for an entirely new project, Mr Window is the answer to all your home improvements needs.